Artist: Slayer
Album: Christ Illusion
Year: 2006
Genre: Thrash metal
Review:
Following their 2001 album God Hates Us All this manages to add speed to their down tuned C standard heaviness of the previous one. Sticking to the standard lyrical themes of war, religion, and political corruption this will definitely keep your head thrashing with fast riffs, iconic solo stylings of Kerry King and Jeff Hanneman, and adding their usual haunting slow songs like Eyes of the Insane. This is an underrated Slayer album that I believe deserves a listen.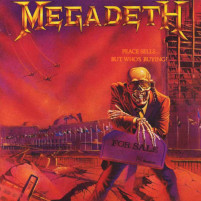 Artist: Megadeth
Year: 1986
Album: Peace Sells...But Who's Buying
Genre: Thrash metal
Review:
Megadeths sophmore album is no joke, Peace Sells is an iconic thrash masterpiece. With memorable riffs like Wake Up Dead and Peace Sells this album doesn't hold back. With Dave Mustaines complex, fast, and technical riffs, and snarling vocals, this deserves a listen if you haven't heard it already.